Wuhua industrial zone


Scenery Resort of Yitang(National 3A tourist scenic spot)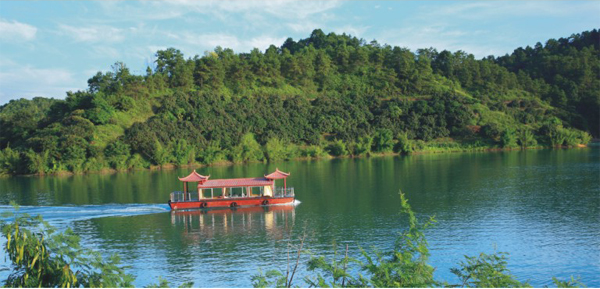 Scenery Resort of Yitang(National 3A tourist scenic spot)

Vila Hills of Hot Mineral Mud in Tanghu(National 3A tourist scenic spot)
Wuhua, known as Changle County in the past time, is located in the southwest of Meizhou with a total area of 3238.9 square kilometers, population of 1.311 million and 16 towns under its jurisdiction. It enjoys the reputation of "Land of Culture, Land of Overseas Chinese, Land of Football and Land of Craftsmen ".
It is rich in resources with 34 species of metal ores and 19 species nonmetallic minerals and among them, tungsten and molybdenum ore fall into the first category of national standard first class, fluorite ranks among the world first class, and the reserves and quality of potash feldspar take the leading place in Guangdong Province. And it has profound cultural heritage. Military arts champion, Li Weiguang and the King of soccer in the world, Li Huitang all are cultivated here. And the site of Han dynasty buildings in Shixiong Mountain is listed as one of the eight sites in Guangdong. Besides, it has many famous specialties such as vintage wine, Changle wine, the persimmon tributed to the emperors of Ming Dynasty and Datian persimmon flower. And with distinctive features in its"mountain, water and mud," The Vila Hill of Hot Mineral Mud is known as "the most spectacular spot".
Wuhua will abide by the orientation of becoming a key development area to consider the development of county as the center, to focus on the development of modern new industry and green city economy, to concentrate on creating a "ecological industrial new city" with 500 thousand people, to emphasize on the development the key distinctive industries such as hardware processing and automobile spare parts, to accelerate the construction of thousands of acres of county industrial park. By integrating the Meizhou (Wuhua) pumped-storage power plants, vila hills of hot mineral mud,Yitang reservoir scenery Qimuzhang, Baishizhang national mine park, Changleshao scenic area, Changle palace and other tourist attractions and ecotourism agriculture, Wuhua will make great efforts to creat a land of Changle.
Investment Promotion Bureau of Wuhua County
Investment promotion hotline:0753-4420629
Website:Http://www.wuhua.gov.cn/