Regional Transportation
Update: 2012-07-19 11:33:49 Source: meizhougov Hits:210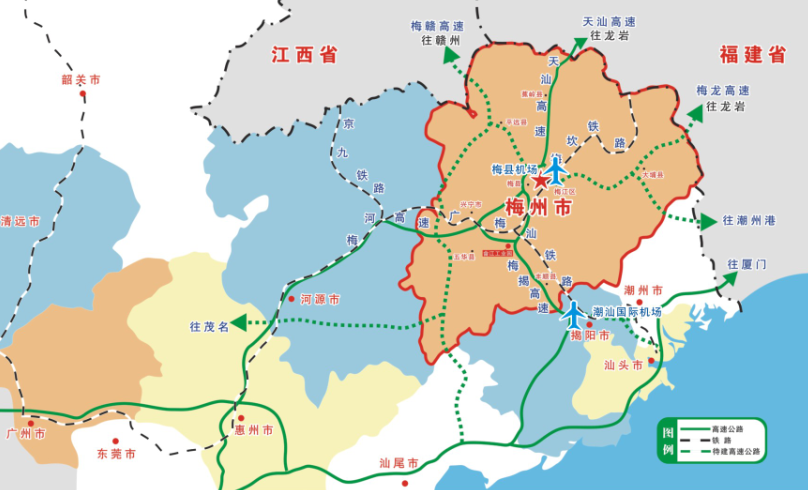 Highways: 205 and 206 national highways run through its entire territory and the expressways of Meizhou -Heyuan, Meizhou-Jieyang and Tianjin-Shanwei have been put into operation, which enable you to reach in Pearl River Delta, Xiamen, Zhangzhou, Quanzhou, and other regions within 3 hours. Only 3 hours will be needed to get to Guangzhou after the completion of expressway from Meizhou high-tech industrial park (which is located at Shejiang) to Huayang.
Airlines: There are airlines in MeiXian Airport flying straight to Guangzhou and Hong Kong, and the airlines to Shenzhen, Shanghai, Beijing, Hainan and Taiwan will be launched. It only takes 1.5 hours from Chaozhou-shantou International Airport to Meizhou urban area, 50 minutes to Meizhou high-tech industrial park and half an hour to Fengshun hot spring livable city.
Railways: The two rapid railways of Guangzhou-Meizhou-Shantou and Meizhou-Kanshi are connected with the railways of Beijing-Kowlon, Beijing-Guangzhou, and Guangzhou-Shenzhen. Every day there are trains running directly to Meizhou city, Xingning city and Wuhua Huacheng. Guangzhou-Meizhou-Shantou high-speed railway expansion project has been included in the national "Twelveth Five Years" plan, after the completion of which, it will only take 1.5 hours to go to Guangzhou and Shenzhen. Yintan- Meizhou, Pucheng-Meizhou and Jinan-Guangzhou railways are under construction.